Today marks three weeks since I flew home from Benidorm after a weeks holiday, and I am still having withdrawal symptoms, and have been since the day I got home. It was the first time I'd visited Benidorm, and it far surpassed my expectations. I mean, don't get me wrong, I was expecting it to be a great holiday, but honestly, it was
amazing
!
There was truly something for everyone there, so I thought I'd show off just a few of my pictures by creating a list of ten very valid reasons you all should visit Benidorm in your lifetime!
1. The weather.
Yes, I may be stating the obvious here, but it's still a completely perfect reason for anyone to visit Benidorm. The weather is brilliant all year round, and it's perfect for soaking up the rays and working on your much-loved tan. The week we stayed, temperatures reached 40°C and we couldn't help but take refuge in the shade every so often with a nice cold can of cola, or failing that, taking a dip in the pool, which takes me to reason number two...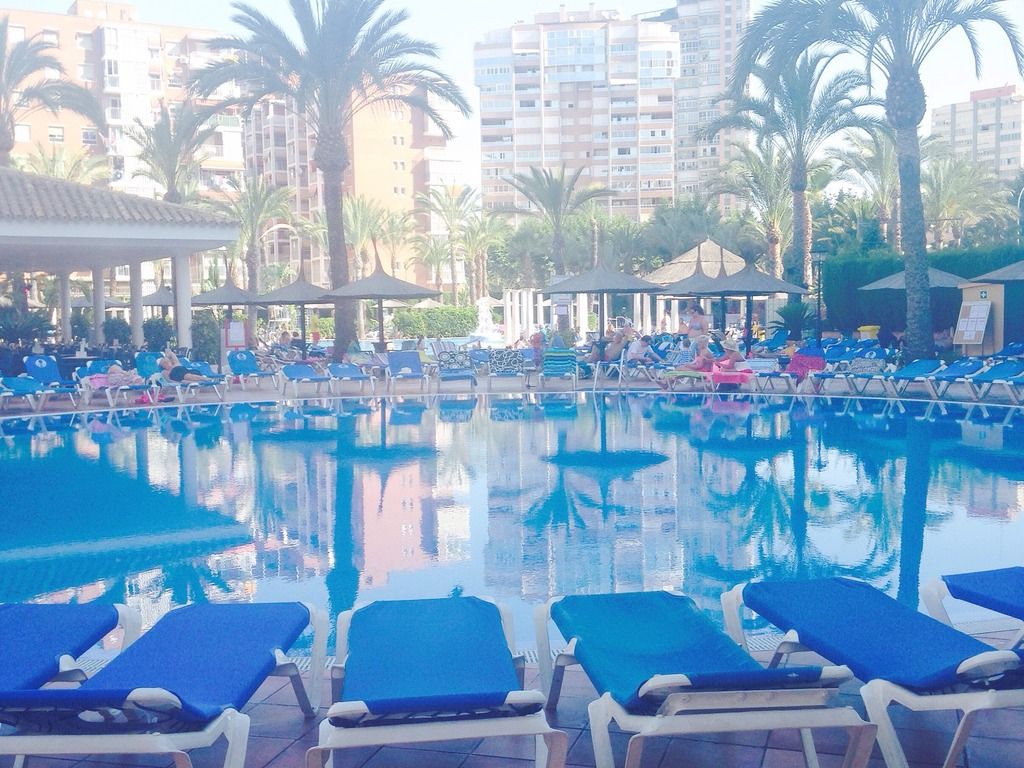 2. Relaxing by the pool.
One of my favourite feelings in the whole world is getting up in the morning with no commitments and knowing you can spend a good several hours doing absolutely sod all by the hotel pool. Every morning I would have my bag packed with my iPod, puzzle books and of course plenty of books to read by the pool, ready for a full day of laziness. The hotel we stayed in had one of the nicest pools I've ever been in with fountains, jacuzzi areas and a swim up bar - perfect.
3. Benidorm Palace.
For a magnificent spectacle of dancers, musicians, magic and so much more, Benidorm Palace is the place to be. It's a jam-packed night and you can even wine and dine whilst you watch the amazing show. The magician was super hot, which was an added bonus, and we were lucky enough to get sat right by the stage. During the interval, a jazz band plays popular music and the public are free to take to the dance floor. It was the cutest thing seeing loved up couples having a boogie, and of course, I soon jumped up and joined in with everyone else!
4. Benidorm Circus.
So, you know that handsome magician I mentioned just a moment ago? Yes? Well, we got to see him for a second time when we visited the Benidorm Circus. I certainly wasn't complaining! This time he was a sexy ringmaster rather than magician, and hosted a fabulous evening of visual humour, acrobatics, juggling and tonnes of fun. This was definitely more child friendly for families, but I'm a big child at heart so I absolutely loved it.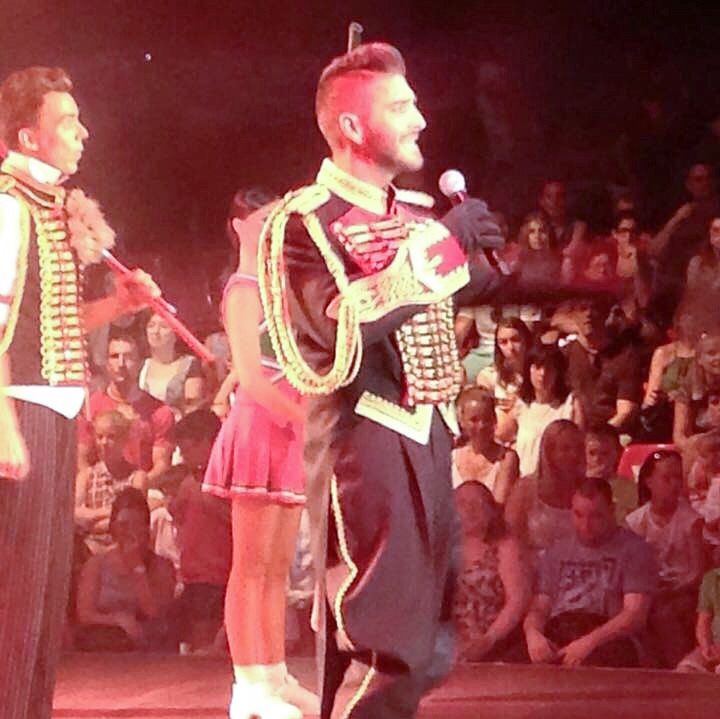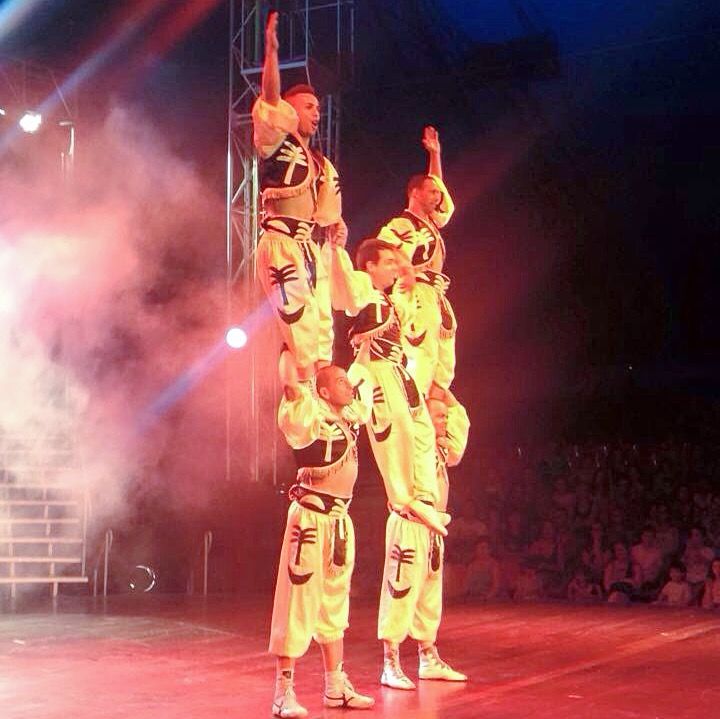 5. Aqualandia water park.
For those of you who love a bit of an adrenaline rush, Aqualandia water park boasts some pretty big slides, though I wasn't brave enough to try any of them! I stuck to the simple slides and lazy rapids, which still kept me pretty happy. Unfortunately I have no photos from inside the waterpark; I think it would be quite an error to attempt to take my phone and/or camera on the slides with me, don't you? ;) I have a pretty awesome photo taken from above though!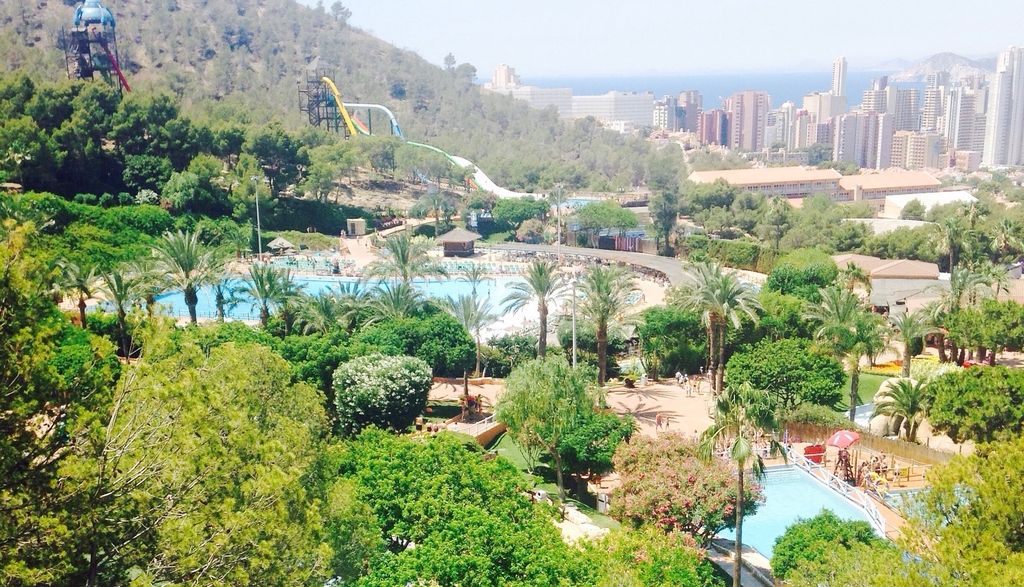 6. Mundomar marine animal park.
If you ever do visit Benidorm, this is most definitely an attraction you shouldn't miss. As well as walking around and encountering penguins, meerkats, sea lions and more, visitors are given the opportunity to not only feed the animals, but enter certain enclosures for a souvenir photo to take home. And if this wasn't enough, they hold amazing shows throughout the day where you can see the talented dolphins and sea lions put on a humorous performance for the full family.
7. The nightlife.
Whether you're looking for a few quiet drinks, a wild night boozing or - our favourite - a fun night of karaoke, there'll be something on the strip for you. We had nightly entertainment at our hotel and so didn't have to venture out much, but when we did, we started off the night with karaoke performances for free shots and ended up spending the night with new-found friends along different bars on the way. Oh, and managed to wangle some flashing sunglasses for free... Jealous, right?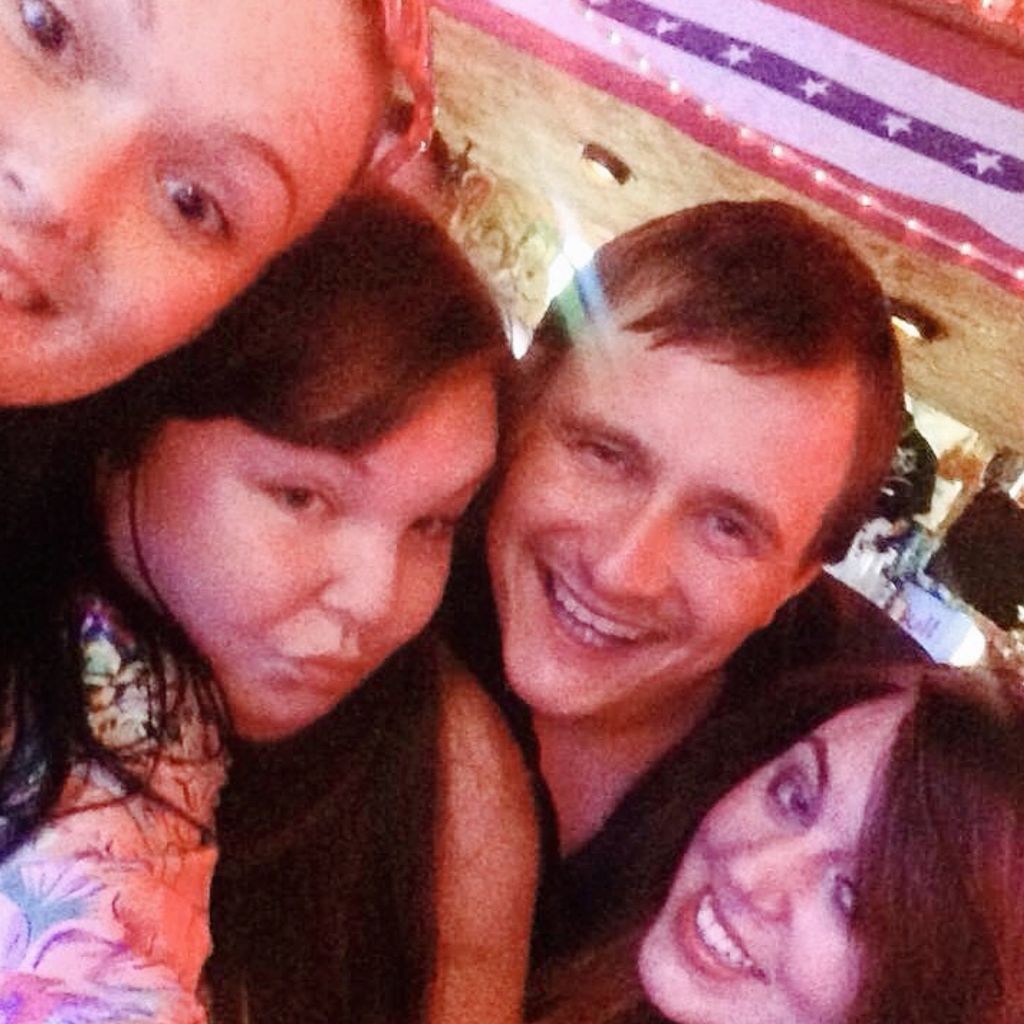 8. The beach.
Benidorm's beautiful golden beaches were ideal for taking a gentle stroll, and with plenty of sun loungers and watersports available, there was plenty to do should you wish! We decided to instead chill out in a couple of the numerous bars and restaurants lined up along the beach, and simply sat with a nice cold drink and some grub, just peacefully watching the world go by.
9. The shops.
All over Benidorm there are numerous little souvenirs shops selling handbags, dresses, photo albums, ornaments, purses, books, gadgets... pretty much anything! I absolutely adore shops like this, and love stocking up on pretty dresses ready to take away for my next holiday. There was also a wonderful indoor market next to our hotel. It's safe to say I spent an awful lot of money, but with no regrets whatsoever. I came home with plenty of goodies and gifts, and a pretty photo album to store my memories. Speaking of which, reason number ten...
10. Making amazing memories with amazing friends.
Of course, the best things about any holiday you go on are the unforgettable experiences and the memories made along the way. We all had an incredible time, and already we can't wait to return next year, all being well. It was our first holiday together with one another, and my friend Katie's first holiday, full stop! The week passed way too quickly for my liking because it was all so much fun!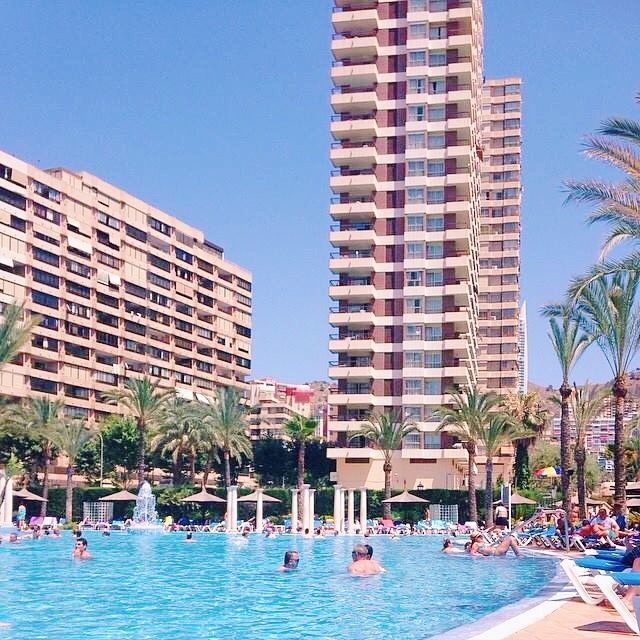 In case anyone is wondering, the hotel we stayed in was the Hotel Sol Pelicanos, which is the hotel in which they film the popular TV series Benidorm! It was a truly wonderful hotel and I would happily go back every year. It was in a perfect location for the beach, shops and bars and was even walking distance from the parks and shows! The staff were incredibly helpful, the food was amazing and the entertainment was brilliant.
Obviously the reasons in my list aren't the
only
reasons to visit Benidorm, but these are the things we did and we had a fab time. I would happily relive the full week again! Have you visited Benidorm or plan to? Let me know in the comments below!